What You Need to Prepare for Postpartum and Breastfeeding
"Preparing for birth is like planning and preparing for a wedding; while preparing for motherhood is like preparing for your marriage. Postpartum would be best described as the honeymoon season; the first year to three years of marriage. It would be wise for a woman to put as much thought, if not more, into preparing for this season in her life as she does her birth.
It is this season in her life that sets the stage for how she views herself and how she believes others view her as a mother. When women struggle through this season they are left feeling lonely, ill-equipped, and often times suffer so greatly that they determine not to have any more babies!" The First Ever Christian Postpartum Course
I can't begin to count the times I have heard a young exhausted mom express her unwillingness to have more babies because it's just too hard. It is true that many women today don't want more children either because they had a traumatic birth experience or they struggled through postpartum. There are husbands, also, who don't want their wives to walk through what they did the first time during postpartum.
All of this fear could be eliminated or at least lessened if women knew how to take care of themselves and if our communities lived in a way of serving one another.
One area of stress that new moms seem to get discouraged about or anxious over is breastfeeding. I want to encourage you first off that God designed your body to be able to do this!
In fact, there are many beautiful connections that benefit both the new mama and the baby through breastfeeding. For example, when a baby suckles on their momma's breast, the saliva and suckling stimulate two powerful hormones, prolactin, and oxytocin, which together help with bonding, emotions, as well as even triggering uterine contractions to bring the uterus back to its normal size. That is why many moms get what is called After Birth Cramps when they are nursing their babies!
That is just one example of many, which I have written about in my book, Redeeming Childbirth, in the chapter entitled Understanding God's Design.
According to the CDC, about 74% of women start out breastfeeding, but by the third month in only 33% are still exclusively breastfeeding. Their reasoning behind such a decline is that mother's lack the support needed, experience pain that they don't know how to treat, and or they are jumping back into work.
My heart BREAKS when I see moms struggle with breastfeeding because I know first hand just how hard it is! I have helped countless moms consulting them in lactation healthy practices, but also have breastfed for a large chunk of my personal life as a mom of seven with one on the way–nine years and 4 months to be exact! Over those years I have suffered through mastitis, clogged ducts, yeast infections, lip-ties, and sleepless nights. I understand first hand what a sacrifice it can be, but I also know what a blessing it is to our children and the bond we experience with them because we make this sacrifice.
In this post, I am going to share my most favorite supplements and tools to have ready in my postpartum kit for a healthy breastfeeding journey.
Please feel free to leave your favorite products in the comments too.
Also, I am not able to cover everything here in this one blog post, so I invite you to check out my Christian Postpartum Course.
The course includes:
13 teaching videos,
Postpartum Prayer Audios,
Scripture Cards,
a 30-page Postpartum Handbook and Planning Guide.
In this course, I have a teaching video specifically on breastfeeding and another on how to treat mastitis naturally which has over 20 home remedy recommendations.
10 Tips for Treating Mastitis Naturally might be helpful if you have struggled with Mastitis. This blog post offers 10 of the 20 remedies you can have ready in your home.
Favorite Tools for Preparing for Breastfeeding:
Sunflower Lecithin 
Fenugreek supplements
Happy Ducts Herbal Tincture by Wishgarden 
Heating pads
Boob Tubes- heating pads
Nursing Cover
Cabbage (to blanch on stovetop and place on engorged breasts)
*Extended List available in Postpartum Course
Check out the Postpartum Course and Pregnancy & Postpartum Bundle Here.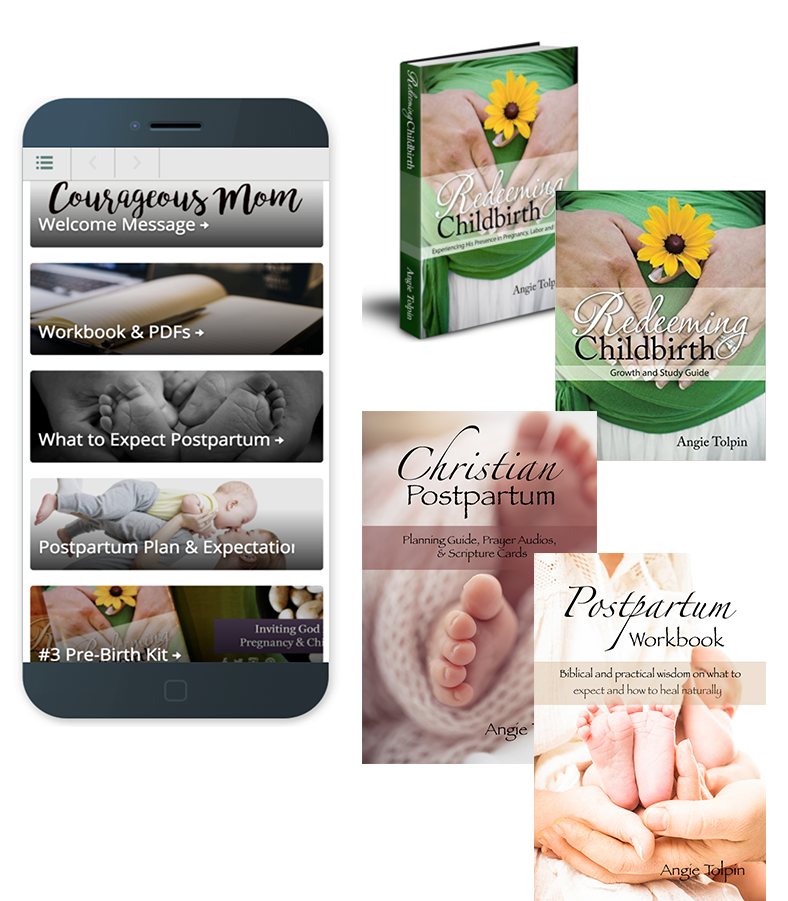 Courageous Mom is a participant in the Amazon Services LLC Associates Program, an affiliate advertising program. This post contains affiliate links.